A Taste of the Taj
October 28, 2009
---
The 'tourist' bus to Agra wasn't quite as plush as I was informed. I think it was meant to be but it was actually well worn and very cramped. The reclining seats just made it worse. (I think seats on buses and planes should have two "recline" buttons: one on the current seat and one on the seat behind. If the person behind does not agree to allowing reclining by pressing their button, the seat should not recline.) After being informed that there was absolutely no room to recline, the passenger in front put their seat on full recline anyway.
Upon arrival in Agra, the bus stopped and the driver told me I should take this rickshaw which will take me wherever I needed to go, free of charge. This didn't make sense to me. As near as I could determine, my guest house was within walking distance of wherever they would be parking the bus for the Taj Mahal. But I did not protest.
I should have. The driver, over my repeated objections, proceeded to take me to his preferred choice rather than mine. I got out, geared up, and told him I was walking to my choice: Hotel Sheela. They aren't that far apart. In exasperation, the driver relented and took me where I wanted to go.
Now, to be fair: the rickshaw driver's choice wasn't terrible or even unknown. Maya gets good reviews. Nonetheless, I'm glad I stuck to my guns because this place is great! Sheela is inside the green zone that surrounds the Taj Mahal to protect the monument from pollution. Few motorized vehicles are allowed and there are large areas planted with trees and shrubs. Sheela itself is built around a garden area with birds and monkeys (well, macaques) in the trees. The air is clean and noticeably cooler than even a few yards into the unrestricted city. 'Kind of makes me wish there was reason to stay longer.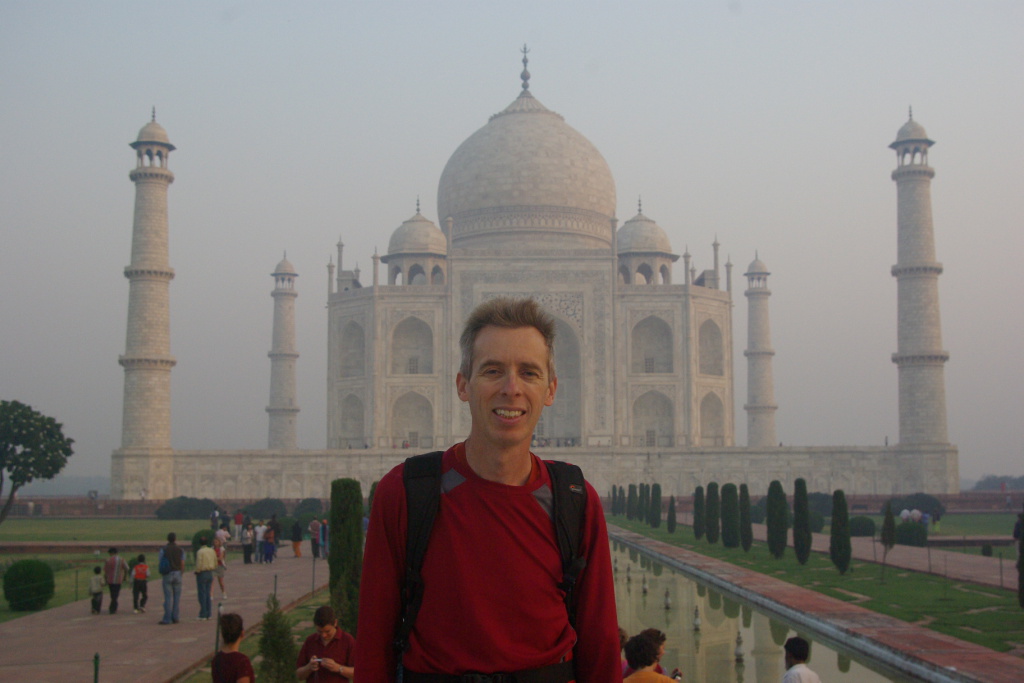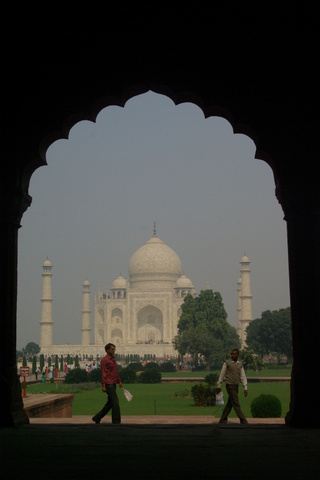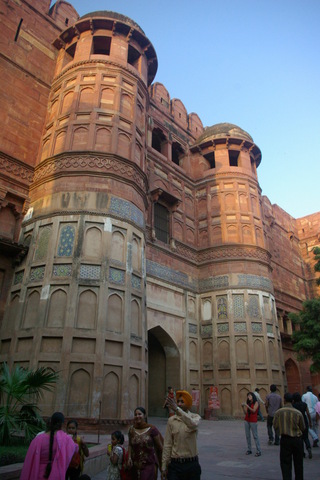 The Taj Mahal is impressive. Even though it lacks the air of antiquity, the mighty Taj still has presence. Difficult to photograph. The precision and symmetry are so strong that the smallest error in composition looks wrong. But it's not a multi-day event. Combined with Agra Fort (impressive in its own right, though not on the same order as the Taj) you really have one very full day, even for a photo hound like me. There's more but quite diminishing returns. Time to move on.
I had expected to go straight to Jaipur but I'm going to make another stop. Fatehpur Sikri is the site of a walled capital city built in the 16th century and then abandoned after only 14 years. It is probably the last Mughal site I'm going to pay much attention to but I think it is worth the trip.
Transportation details have proved elusive. The hotel manager couldn't give me a clear answer about trains. At the station, I was told that there was no train to Fatehpur Sikri. In fact there was, concurrently, a train to Fatehpur Sikri was in the station boarding passengers. I asked at the ticket window about trains from Fatehpur Sikri to Jaipur and they sent me to 'Inquiries'. 'Inquiries' told me to go back to the ticket window. There are definitely buses to Fatehpur Sikri. Worse case scenario: I have to take a 4.5 hour bus onward to Jaipur as well. Time to wing it.