From Delhi to the Domain of The Dalai Lama
April 10, 2010
---
Delhi doesn't want to be my friend.
The morning after my arrival, I neglected to retrieve my phone from my pocket before dropping my shorts off to be laundered. I'm still trying but I think it is no more. Fortunately, it isn't anything fancy. The ultra cheap replacement I bought in Pahar Ganj is pretty awful though.
I left for Old Delhi station at about 2:40 to catch a 4:00pm train. That ought to be enough time. When I was here in October, I walked to the Red Fort in about an hour and that's a little ways past the rail station. It took ten to fifteen minute to reach New Delhi Station's pre-paid rickshaw counter. There after the usual delay of stating in line, I found an unexpected delay: Even though I had the pre-paid ticket, there was no rickshaw to pick it up. Usually, they are clambering for the business. A trickle of rickshaws shuttle past without stopping. Eventually, one stops. It's 3:10, but that should be OK. It's even closer from here and, I can see from the map, that you don't really have to go through Old Delhi to get there. You can pretty reasonably go around the medieval city and it's traffic jams.
But the rickshaw driver had other ideas and routed directly through the snarl. Despite last minute attempts to go fast, I didn't arrive until 4:08am. Just before 5:00pm, I determine that this is one of those trains that really does leave on time and it has left me behind. After evaluating my options, I book the same train for the next day and had back to New Delhi Station on the more convenient than expected Delhi Metro.
Next day, I decided that my phone was probably not going to revive and bought an ultra cheap replacement. Then it was off to Old Delhi station again. This time I would use the Metro. No more unreliable rickshaws. The metro was absolutely packed. It hadn't been like that the previous day. After backing out of the train at Old Delhi, I noticed something was missing. I still had my new phone but the small camera that shared it's pocket was gone. I have no way of knowing if it fell out or was plucked out, which I suppose is the definition of a well executed pick pocket. After a quick back and forth on the Metro, I concluded that it was very unlikely that I would ever see that little camera again and resumed course for Corbett.
"Second Seater" is bearable but I probably won't use this class again. It isn't just a non-AC version of AC chair class. It is a lot more crowded and less comfortable. Cheap, yes, but I am seldom that desperate to save money.
I've been on one morning safari in Corbett. It was not great. I think the recent fires are the primary culprit but it is hard to tell. Tomorrow I will find out if I can get a bed in the dorm deep in the core area. The outlook is grim.
---
The morning trip to the reservation office wasn't terribly successful. After some time I found out they had two ways of booking: Advance booking which meant weeks in advance, and same day booking to cover cancellations. I don't think they know how to handle a booking for "tomorrow". Anyway, I was told to come back tomorrow.
That night, a group of three young Swedes arrived. Together, we formed a more economical (though still expensive) group of four. It would be cheaper, on a per day basis if we stayed two nights but the Swedes were at the end of their trip with no time to spare. I joined on to their terms but really, I hoped to stay at least one more day.
Much of what makes Corbett so awkward and expensive is that there is no public transit to Dhikala, the location for most of the accommodation. The safari jeep, transit to and from the park, the permit, and the accommodations are all tightly bound together. The safari jeep doubles as transit to the park. The permit is dependent on accommodations. When I queried about staying longer, it also became apparent that booking could only be done back in Ramngar. Once you are in the park, you are stuck.
The left us with four opportunities to see wildlife and two actual safaris.
On the drive in, we saw a few deer, a wild elephant, and stopped to look at the garials in the river. Otherwise, not too much. The first safari added more elephants, a fishing eagle. The next morning was only good for a barking deer. At the end we camped out at the viewing platform until we had to leave for Ramnagar. At no time did we see tigers are anything else that would qualify as interesting. I'm not picky. A mongoose would qualify as interesting. We all went home with not much to show for the effort.
Another group arrived that night and were organizing for a trip to Dhikala. I flirted with the idea of joining them for a trip back. But, no. It is colossally expensive and three bum safari's in a row suggests more of the same to come. I chose to move on to McLeod Ganj, home of big trees, bigger mountains, and the Dalai Lama.
The most efficient route would be go back to Delhi and take a bus from there. But that's disgusting. Backtracking is always distasteful. Backtracking to Delhi is so much worse. It would cost me a couple of hours but I chose a morning bus to Dehra Dun. A little after 10:00am, I boarded an "ordinary" for the seven hour journey. I arrived just in time to miss the 5:00pm bus to Dharamsala. That was OK. Seven hours in an ordinary are not fun. Fourteen hours in any bus is unpleasant. Joining both into a single 21 hour bus marathon was more pain that I really needed. I booked for the next day.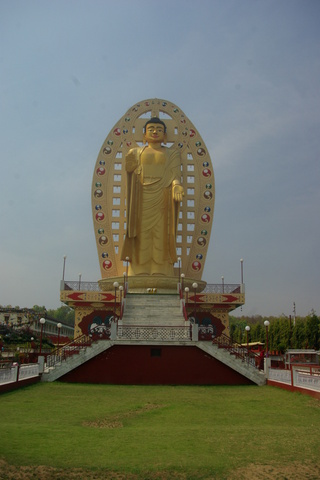 That left me with a whole day to spend with whatever sights I could find in Dehra Dunn. There is good reason why few foreign tourists come here. There isn't much to see. But, with my room in the guest house at Mindrolling Monastery, I would be in the middle of what there was.
And that included an enormous statue of the Budha, and the "world's tallest stupa", along with numerous smaller, less impressive structures. They are all modern creations but the artwork is good and it is suitable for a short diversion.
This Tibetan enclave also had fairly good Tibetan food. That's where I learned that "momo" without qualification means beef momos. You won't find those in Hindu India!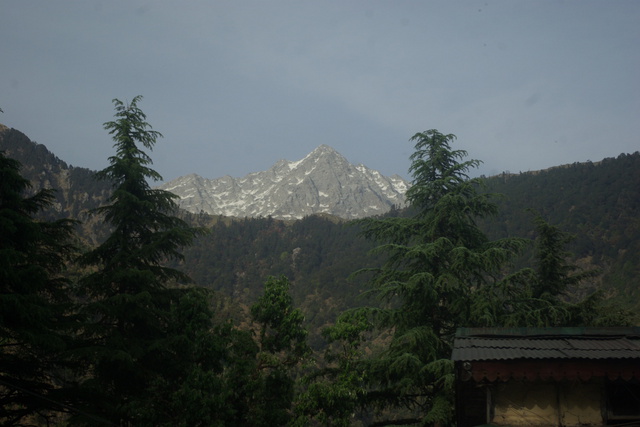 From evening to morning was the dreaded fourteen hour seated bus ride. It wasn't fun but it wasn't nearly as painful as I expected from similar trips I had taken before. At just before 7:00am, along with an Aussie I met on the bus, I was at the Dharamsala bus station trying to figure out the best plan for the last 4K horizontal and 700 meters vertical to McLeod Gange. Since we were too cheap for a taxi and too impatient for 8:30am bus, there was only one option: hike. It was a struggle, with full, unoptimized, packs, but we made it. The views of distant snow covered peaks were fantastic.
So that leaves me here, in one of the nicer travelers grottos I have encountered in India. But I don't really know what to do here. I was hoping to see wildlife in Pin Valley, but the information I am finding suggests a trekking expedition. I am not really equipped for that and I am a few members short of a team. It is too hot to head South.