Final Island Wander
February 20, 2007
---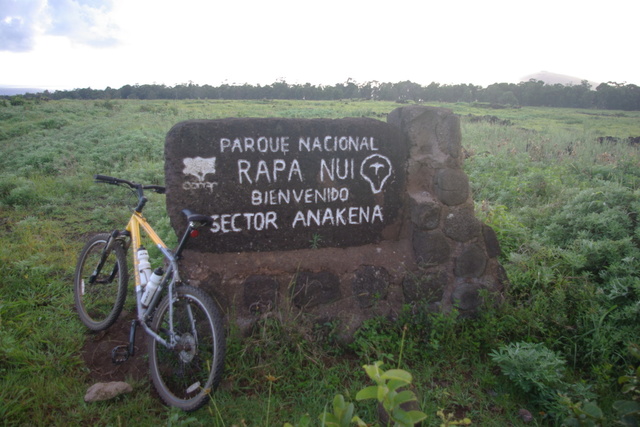 I set out on a rented mountain bike early, early this morning, just before dawn. On the central highway, the road was still damp from the overnight showers. The air was cool. They sky, gray, and the light, a bit dim. I rode past what seemed to be an attempt to create a forest. Scrawny cypress like trees dozens rather than hundreds of years old. I could see light through from the other side.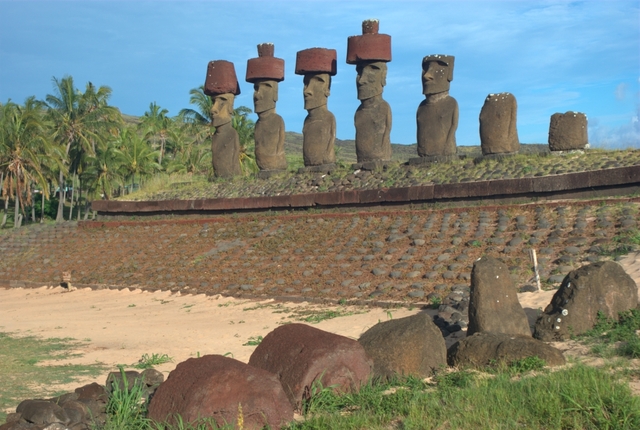 I arrived at Anakena, the one halfway nice beach here. Not huge, though. It is also host to a couple of nice archeological sites. Ahu Nau Nau with 7 moai, 4 with topknots. Ahu Ature Huki with a single moai of a different style. Early that could allow me to take a photo of myself without being blinded, gave way to the only clear rays of sunshine of the day. Content, I left in search of two more sites.
Well, actually, I had to find the road first. The map showed a paved road but I didn't see anything like that. I found a road that hugged the coast, as my intended route was supposed to do. It was pretty rough though and I was constantly looking for a clue, like a sign announcing an ahu but never did find one. Eventually, I reached asphalt again and, soon after, the already visited sight of Ahu Tongariki. It wasn't even noon, and I was already headed for home.
I took the long way, stopping at a site that I had considered skipping: Ahu Vinau. It was interesting but ruin, and nothing all that special. I found another site that wasn't even on my map. Three moai face down. Small, but worthwhile. Still, the ones I missed bothered me.
I returned to the hotel and took care of minor business: laundry, re-confirming my flights, and lunch. Even tried to return the bike early. They were closed. Many places closed today. I know not why.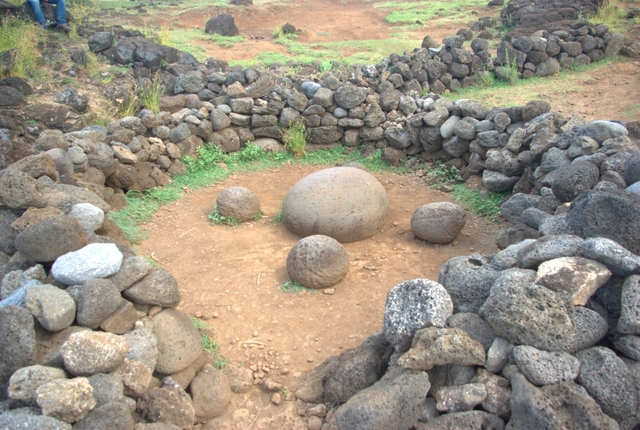 I figure a guide's chief purpose is to find me things I can not find myself. I had two such things. I sought out a "taxi tour" to fill in the gap. The driver definitely earned his keep, at least relative to the inflated cost of everything on the island. I certainly could not have found the rock carvings of Papa Tataku Poki. I had probably already stepped on them but there is no way I could have found them. Subtle, they are. However, it did remind me why I choose to avoid tours and guides whenever possible. They are distracting. They are impatient and, if the site is worth anything at all, I will want to linger and reflect. Te Pito O Te Heuna (Navel of the World) is one such site. It is very simple and very different from anything else here. That it exists at all is just eerie. I thought getting my picture taken with it but it just seemed wrong. One shot is included here for your own reflection.
With one full day remaining, I've decided not to dive here. Easter Island is not known for fabulous diving. It is supposed to be interesting because many species are endemic but there just isn't that much life under the waves. I always considered diving of Easter Island to be secondary to the archeology: A way to fill in the extra time if there were any. There is some, but not enough. I could do one dive. Unfortunately, experience has taught me that, after an absence, the first dive is never fun. Its only purpose is to shake out the cob webs and jitters so that the next dive can be fun. There isn't going to be a second dive so there isn't any point in doing a first one.
So the last full day will be a quiet one. Do the museum. Shop for a souvenir or two and generally chill. Islands are good for that.