Adios Amazonas
February 22 - 26, 2007
---
I got a brief glimpse of Lima between the Island and the Jungle. I can't say it appeals to me much. The air is nasty. The traffic is reckless. And safety? Well, the little hotel I spent the night at is setup as a fortress. Entrance is via a walled courtyard accessed through a heavy and guarded steel gate. Inside all that, the front door still looked rather serious. From beginning to end, it felt like a place where I needed to be watchful and careful at all times.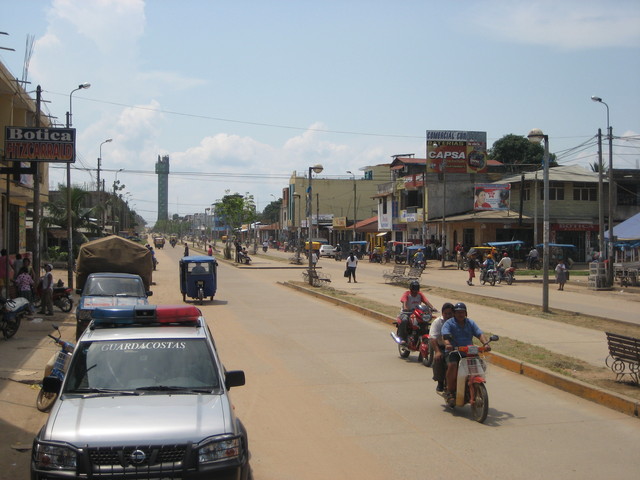 Fortunately, that wasn't very long. The next morning, I was on a flight to Peurta Madonado. That town was OK. And I wasn't there long anyway. I was met at the airport by Rainforest Expeditions and wisked away, first, to their office and then to the peer for the 2.5 hour boat ride to Refugio Amazonas. Sharing the boat for the first segment was a group of Argentine tourists going to the closer lodge of Pozanda Amazonas. And going with me to Refugio? No-one but staff. No other tourists.
In fat there weren't any other tourists here either. There were a large number of students from Peru, Ecuador, and Panama here to learn about guiding and ecotourism. Or something like that. I couldn't eavesdrop effectively as the conversations were all in Spanish.
On the way up and here, I got the impression that I had chosen the wrong lodge. This is the newest lodge. The land around has been protected for a less than two years so the animals are still very wary. Further, the trail network is rather limited.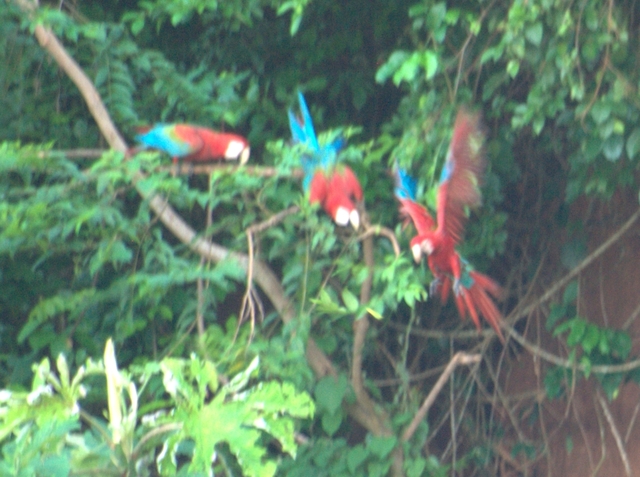 On a longer trip, this would be the point where I start deviating from the original outline. If local knowledge says I would be better off heading up river to the older camp, deep in the reserve, than that's what I do. Alas, that requires time and I'm right up against work obligations and immovable flight reservations. I just have to work within the schedule that I laid out before I left
The plan hasn't worked out all that well. Refugio is a lot like Danum Valey, with most wildlife hidden high in the canopy. But there doesn't seem to be as much as what is here is more cautious. Danum was challenging but I was patient ad started early, I did see things, even without a guide (and I am not observant). Here, even with two guides, I have yet to take a photo that came close to filling the frame. Even toucans and macaws are difficult to see except on the wing.
The oxbow lake had three, maybe four species of small, rather unremarkable birds. I have a handful of photos of monkeys taken at extreme range in poor light. We're headed back to the mammal clay lick at dusk this evening. I'm not optimistic but you never know.
---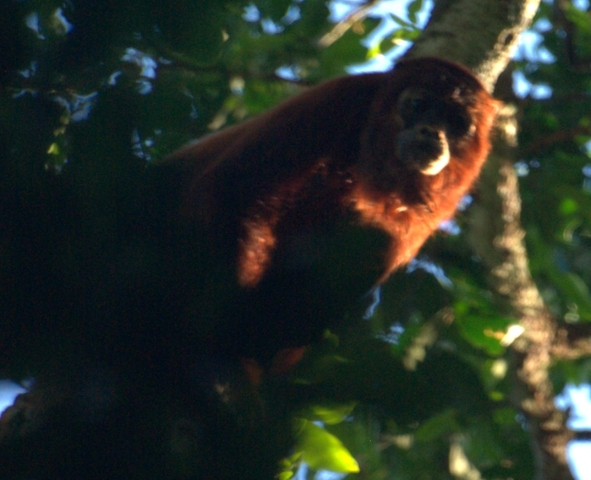 That was actually one of the better outings. Two groups of howler monkeys met in the canopy. They were howling away and paying far more attention to each other than to us. I captured the audio and took several photos in good light. Still only about 1/3 frame though. The canopy is quite far even if you are staring straight up.
On the way back this morning I to a couple returning from Pasada Amazonas. They saw a fair bit more than I did. Monkey's in the camp and giant otters at a nearby oxbow lake.
I'm at the airport in Lima, right now enduring the layover from hell. 10 hours, now less than 4. I considered going into the city for a few hours but decided against it. Lima is quite dodgy and I was not feeling well when I arrived fir reasons I am fairly certain are not contagious. A few hours in a controlled environment at sea level is doing me a world of good.
I think I need to do another trip sometime in the next 18 months. My passport expires in November 2008 and page 23 doesn't have a stamp.